Town Launches YAV Microtransit Service, Prescott Valley, AZ, 2022
5 minutes Date Launched: Sep 12, 2022 Pilot Project Timeframe: 3 years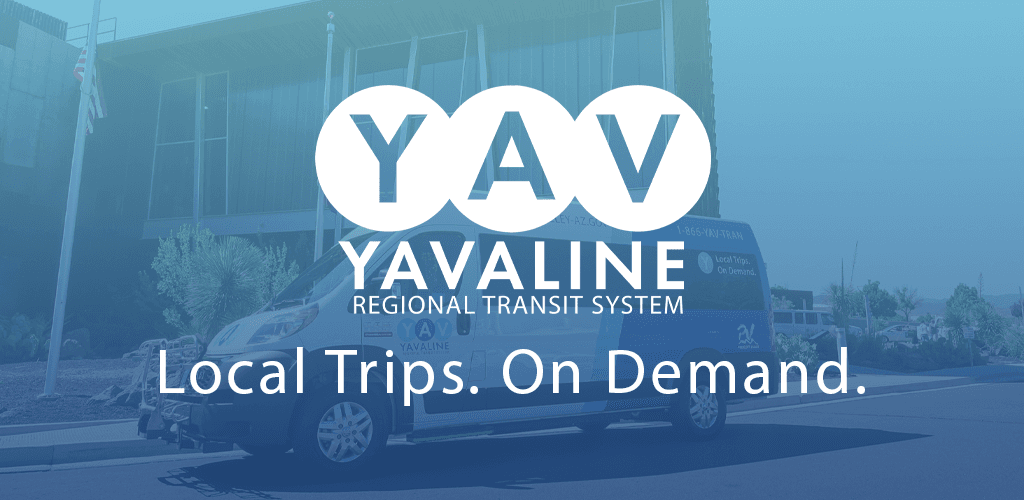 Summary
The Town of Prescott Valley, Arizona has launched the YavaLine Regional Transit System (YAV), its first ever public transit system. Upon its launch, YAV offers customers microtransit rides across the entire town. Customers can request shared rides through an app, supported by QRyde, or by phone. Rides on YAV are available Monday through Friday, 6 AM to 8 PM. Single rides cost just $2, which customers can pay through the YAV On Demand app, on board the vehicle, or over the phone. Key destinations inside YAV's service zone include a local library and civic center, an entertainment district, a senior center, and grocery stores. Customers can also transfer to fixed route service, operated by Yavapai Regional Transit (YRT), at three locations. YRT services the communities of Prescott Valley, Prescott, and Chino Valley.
Description: Video introduction to the YavaLine Regional Transit System.
Credit: Town of Prescott Valley
YAV operates under the Public Works Department at the Town of Prescott Valley. The Town is funding this new microtransit service with federal dollars from the Coronavirus Aid, Relief, and Economic Security (CARES) Act, passed in 2020. As a new transit service, the Town of Prescott Valley also contracts with a private company to operate the service. Microtransit can be a practical solution for trips in small towns and rural communities like Prescott Valley due to lower population density. Hopefully, YAV can meaningfully serve residents and visitors in this area of Arizona.
Last updated November 29, 2022