Transit Agencies Pilot Contactless Payment Options in Santa Barbara County, CA 2021
5 minutes Date Launched: Jul 26, 2021 Pilot Project Timeframe: 6 months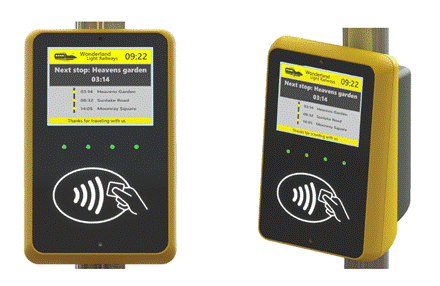 Summary
The Santa Barbara Metropolitan Transit District (Santa Barbara MTD) and the Clean Air Express are offering a contactless fare payment pilot. This six-month demonstration is supported by the California Integrated Travel Project (Cal-ITP). Contactless payments are available on all Clean Air Express buses (a commuter bus system) and on ten buses across two routes for Santa Barbara MTD. During this demonstration, customers can pay their transit fares by tapping certain credit and debit cards or mobile wallets to readers installed on the bus. The credit and debit cards must have tap-to-pay capabilities and belong to the Visa or Mastercard networks. Eligible mobile wallets include Apple Pay, Fitbit Pay, Google Pay, and Samsung Pay. The contactless payment technologies are supported by Cybersource, Elavon, Kuba, and Littlepay.
Clean Air Express Now Accepting Credit Card Payments (5) from Traffic Solutions on Vimeo.
Both transit systems are using fare capping with the contactless fare payments. On Santa Barbara MTD, a one-way fare costs $1.75 and customers will not pay more than $6 per day or $52 over 30-days. These costs equal that of a one-day and 30-day pass respectively. On Clean Air Express, customers pay $6 for a one-way fare and do not pay more than $10 per day or $150 over 30-days.
Though customers can continue to pay their fares in cash or through fare cards on both transit systems, customers are incentivized with a lower fare ($6 versus $7) to pay by a contactless method on Clean Air Express.
Both fare capping and contactless payments are part of a budding trend intended to improve the customer experience on transit systems. Fare capping can promote equity as customers can reap the benefits of multi-ride passes without paying the cost upfront. Contactless payments simplify the payment and boarding experiences for customers. This demonstration in Santa Barbara County can establish best practices in fare payment options for transit providers across the United States.
Last updated August 9, 2021