Transit Agency Transforms Buses into Mobile COVID-19 Vaccine Clinics, Jacksonville, FL, 2021
5 minutes Date Launched: Mar 19, 2021 Dates given are approximate.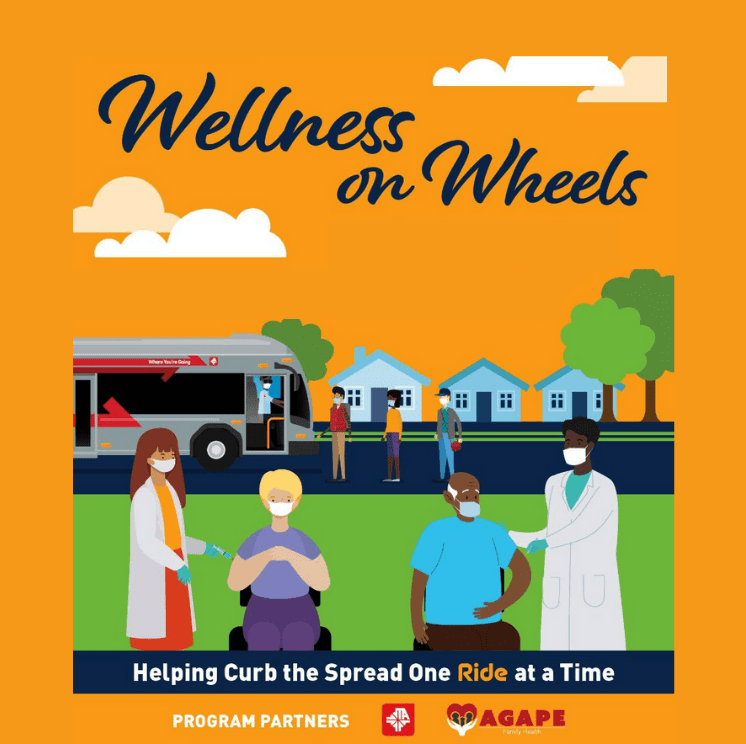 Summary
The Jacksonville Transportation Authority (JTA) has partnered with Agape Family Health, a Federally Qualified Health Center, to launch Wellness on Wheels. Through Wellness on Wheels, JTA has retrofitted two of its buses into mobile COVID-19 vaccine clinics. These buses go to various locations including senior centers, transit hubs, churches, and even an Amazon location, where medical professionals from Agape Family Health administer the vaccine doses. Currently, Wellness on Wheels is scheduled to operate vaccine clinics through June.
During the COVID-19 public health emergency, transit agencies have explored many creative strategies to link their customers to tests and vaccines and to build trust in their communities. Alongside Wellness on Wheels, JTA is also giving customers free one-day passes, valued at $4.25, for their vaccine appointments through its Ride to Health program. While many agencies are offering customers free or discounted rides to vaccine appointments, the Wellness on Wheels program could model how transit providers partner with public health agencies and organizations to bring resources directly to customers as a form of community engagement.
Last updated April 22, 2021