Transportation Agency Relaunches LAnow Microtransit Service, Los Angeles, CA 2021
5 minutes Date Launched: Nov 1, 2021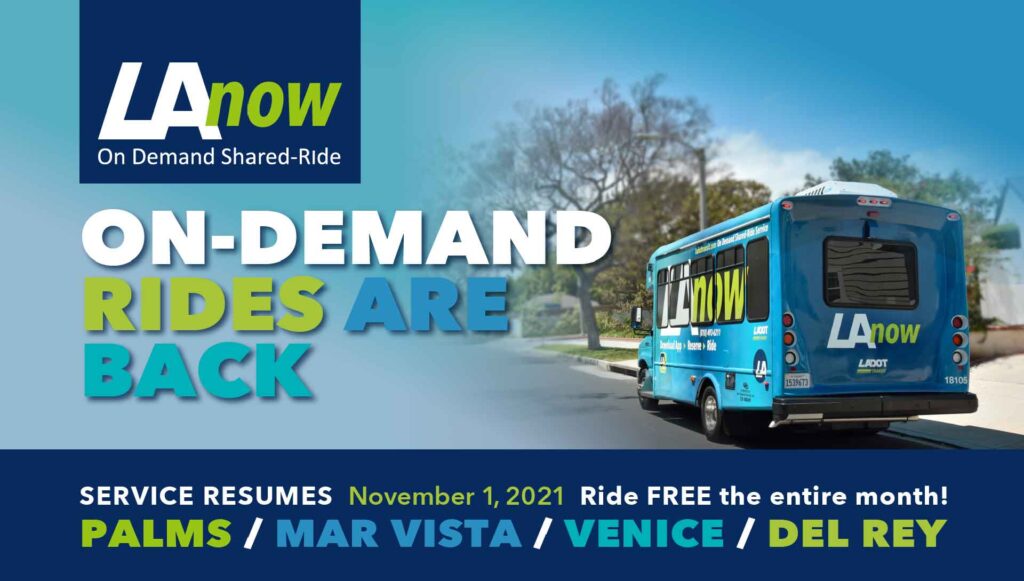 Summary
In March 2020, the Los Angeles Department of Transportation (LADOT) discontinued LAnow, a demand response transportation service (DRT), due to Covid-19.
LADOT has since relaunched LAnow, which provides curb-to-curb shared ride services through the neighborhoods of Del Rey, Mar Vista, Palms, and Venice in Los Angeles. For its first month of operation, rides on LAnow are fare-free. After that, standard one-way fares are $1.50, with discounts and fare-free rides available to seniors and children under four years old. Customers can request rides and pay for their fares through the LAnow smartphone app. Via, a transportation technology company, supports the booking and routing technology behind LAnow's app. Customers who had unused pre-loaded fares from LAnow's legacy service can transfer those fares into this new service. LAnow operates from 6 AM to 2:30 PM during the workweek.

Description: Video overview of LAnow.
Credit: Los Angeles Department of Transportation
Customers can use LAnow to transfer to or from two commuter bus routes or the LA Metro E Line in Palms. Before relaunching, LAnow had carried more than 10,000 riders. With the relaunch and a new app in place, it will be important to observe how people use this first- and last-mile service as Los Angeles continues to re-open from the pandemic.
Last updated November 15, 2021