Urban Transit Agency to Launch Microtransit Service, Memphis, TN, 2021
5 minutes Date Launched: Jun 1, 2021 Dates given are approximate.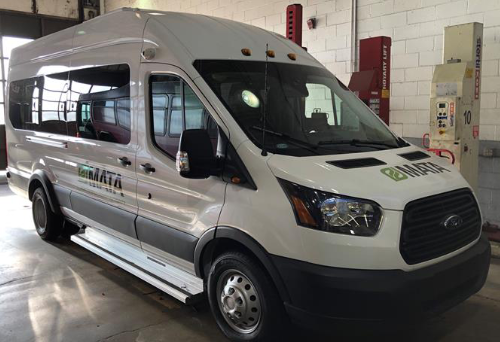 Summary
MATA received a Federal Transit Administration Integrated Mobility Innovation grant to pilot a microtransit service.

Customers can request point-to-point rides across Boxwood, Westwood, and Whitehaven neighborhoods in southwest Memphis.

This microtransit program will have a fleet of six to eight shuttle buses.
The Memphis Area Transit Authority (MATA) will begin piloting a curb-to-curb microtransit service this summer, serving the neighborhoods of Boxtown, Westwood, and Whitehaven in the southwestern area of the city. In June, the service will only be available to customers of MATAplus, MATA's paratransit service. Starting in July, the microtransit service will be available to all customers traveling within the designated service area. The pilot is expected to last through Fall 2022. Rides can be booked by phone, app, or MATA's website and are available from 6 AM to 6 PM, Monday through Saturday.  Pickups are expected to arrive 20 to 30 minutes after requested and fares are the same as fixed-route buses. While fares can be paid through the mobile app or desktop portal, like many other microtransit services, customers can also pay for fares through cash boxes and smart card receptors made available in the vehicles. This microtransit program will have a fleet of six to eight shuttle bus vehicles.
MATA is funding this pilot with a $394,000 Integrated Mobility Innovation grant from the Federal Transit Administration. The agency's microtransit program is part of a larger trend where many communities across the United States are piloting flexible microtransit services to supplement fixed transit.
Last updated May 5, 2021