Walmart Pilots Autonomous Last-Mile Delivery Service in Washington, DC, Miami, FL, and Austin, TX 2021
5 minutes Date Enacted: Oct 1, 2021 Dates given are approximate.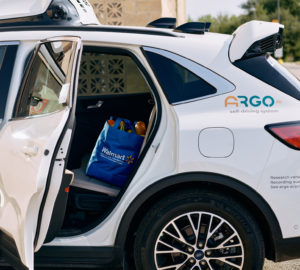 Summary
Argo AI and Ford Motor Company are partnering to provide autonomous last-mile deliveries for Walmart across Austin, Miami, and Washington, DC. This pilot is expected to begin later this year and will initially complete deliveries to limited service areas. Orders will be sent directly from Walmart retail locations to the customer's residential unit. In this agreement, Ford will provide the vehicles while Argo AI will provide the autonomous technologies that guide the fleet. Partner organizations in this pilot hope to grow the delivery service areas depending on how successful the initial deployments will be.
Many brick-and-mortar retailers are beginning to explore new last-mile delivery options for customers as they are being forced to compete with online commerce companies. This partnership may provide new insights on autonomous technologies for goods movement, and new insights about the impact autonomous last-mile deliveries may have on businesses and customers.
Last updated September 22, 2021