Whatcom Transportation Authority Launches Microtransit Pilot, Lynden, WA, 2021
5 minutes Date Launched: Jun 13, 2021 Pilot Project Timeframe: 1 year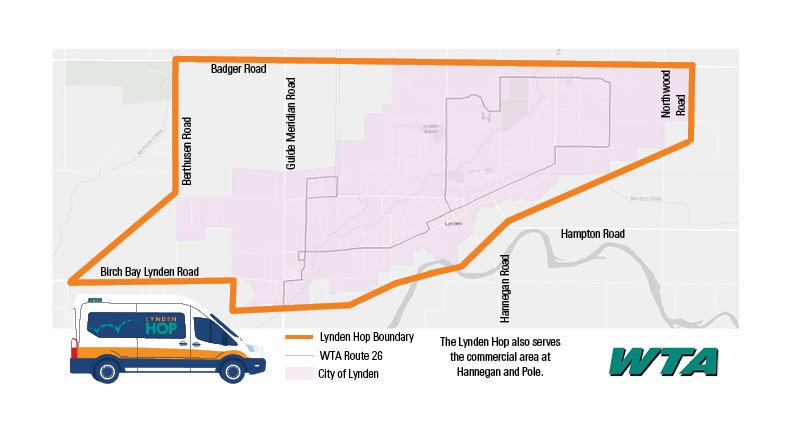 Summary
The Whatcom Transportation Authority received a Federal Transit Administration Integrated Mobility Innovation grant to pilot Lynden Hop, a microtransit service.

Customers can use the Lynden Hop to request point-to-point rides across Lynden, a rural community in northwest Washington.

Lynden Hop vehicles can accommodate three passengers plus one passenger in a wheelchair.
The Whatcom Transportation Authority (WTA), a regional transit provider in northwest Washington, is piloting Lynden Hop, a point-to-point microtransit service for one year. Through this service, customers can request rides to or from anywhere within the city of Lynden, a community of about 15,000 residents, part of Birch Bay Lynden Road, and a small commercial area. Customers can request rides up to one day in advance by phone, online portal, or app. WTA states that customers requesting an immediate ride can expect a pick up within 10 to 15 minutes. Rides are available to customers from 6:30 AM to 7:30 PM during the work week and from 8 AM to 5 PM on the weekends. Lynden Hop branded vans can hold three passengers plus one passenger in a wheelchair and are also equipped with a wheelchair lift. While rides on the Lynden Hop service are typically expected to be shared among parties, much like shared rides on Lyft or Uber, rides are limited to just one party during the COVID-19 pandemic to limit the risk of infection between passengers and the driver. Masks are also required on rides during the pandemic. Fares for Lynden Hop are $1, the same as the fare for WTA's fixed-route buses, and can be paid in cash or through a fare card. Fare-free rides are available to people over the age of 75 and paratransit customers. About 80 percent of the funding for the Lynden Hop pilot comes through a grant of $719,388 from the Federal Transit Administration's Integrated Mobility Innovation program.
Demand-responsive transit can be an important mobility solution for people residing in rural and suburban areas where fixed-route transit services are often limited. Federal dollars can also help smaller communities to test innovative transportation projects that are often difficult to start through local or regional dollars alone. Throughout the pilot period for the Lynden Hop, it will be important to measure the impacts of this microtransit service in the Lynden area and if there is enough demand for this project to meet a significant community need.
Last updated June 29, 2021