Partnering to Reduce Missed Medical Appointments, Pierre, SD
20 minutes Jun 1, 2021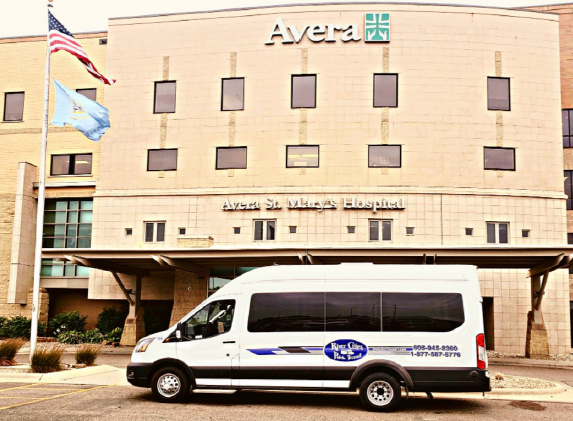 Brief Summary
River Cities Public Transit and Avera St. Mary's Hospital in Pierre partnered to offer a non-emergency medical transportation (NEMT) service. Through this service, patients pay for their rides to and from medical appointments based on distance and type of health insurance.
This service offers rides to patients within a 75-mile radius of Pierre. This radius includes 11 primarily rural counties and five American Indian reservations.
Both River Cities Public Transit and Avera support this pilot with an Integrated Mobility Innovation Grant from the Federal Transit Administration.
Avera hired a Transportation Coordinator to manage ride requests and payments directly.
Description: Video interview with Chuck Quinn from River Cities Public Transit.
Credit: Shared-Use Mobility Center (SUMC)
Note: SUMC recommends playing this video with subtitles and/or a higher volume setting.
Introduction
Partnerships can be vital for addressing barriers to healthcare. This has proven to be the case in Pierre and surrounding rural areas in South Dakota. Specifically, Avera St. Mary's Hospital in the state's capital city and River Cities Public Transit (RCPT), a regional transit provider, banded together to offer an innovative non-emergency medical transportation (NEMT) service to patients. Avera and RCPT received an Integrated Mobility Innovation (IMI) grant from the Federal Transit Administration to support this pilot.
Unlike many other innovative mobility pilots, Avera and RCPT did not procure additional technology solutions beyond their existing resources. Instead, RCPT and Avera developed a sliding-scale fare structure based on a patient passenger's type of health insurance. Through this new payment structure, Avera and RCPT hope to eliminate one of the most significant barriers to accessing healthcare in rural communities in the United States. This case examines the Avera-RCPT NEMT pilot program and how it can be replicable in other rural areas.
Transportation is one of the most significant barriers to accessing healthcare in rural areas. [1]  Public transit services are often limited due to lower population densities. This phenomenon presents a dilemma for individuals most in need of healthcare services: can they spend extra time finding and paying for transportation, or do they skip out on using medical services? When patients with chronic health conditions opt out of seeking routine and preventative healthcare with primary care physicians and specialists, problems can compound for both the patients and healthcare systems. Patients who skip out on routine healthcare often later seek healthcare services in moments of crisis at emergency rooms (ERs). Using healthcare in these dire settings can result in worse health outcomes for patients, incur higher costs for patients, hospitals, and insurance providers, and burden the personnel for hospitals and clinics that are commonly understaffed.
Avera St. Mary's Hospital in Pierre has been experiencing this exact phenomenon. About 9% of patients were missing appointments due to mobility insecurity. Avera collaborated with River Cities Public Transit and applied for an Integrated Mobility Innovation grant from the Federal Transit Administration (FTA) to offer a new NEMT service that eased the cost burdens for patients. In March 2020, FTA awarded RCPT and Avera St. Mary's Hospital over $400,000 to support a pilot. RCPT and Avera began offering rides on their service in June 2021.
Operations for the Avera–River Cities Public Transit program is straightforward and is currently in the process of developing a customer-facing smartphone and web-based technologies like other Integrated Mobility Innovation pilots. Customers seeking rides from out of town to and from their medical appointments must reserve their rides at least five days in advance. Medical appointments should start between 10 AM and 1 PM, and customers will not be picked up before 6 AM. Patient care coordinators at participating medical offices often direct patients to contact a Transportation Coordinator based at Avera St. Mary's Hospital. Avera hired one Transportation Coordinator to oversee booking and payments for this non-emergency transportation pilot directly. The Transportation Coordinator arranges the scheduling and fees for a customer's ride through an internal database. NEMT rides to or from Avera St. Mary's Hospital in Pierre must occur within a 75-mile radius. This service area is highly rural and includes American Indian reservations like Rosebud, Pine Ridge, Crow Creek, Lower Brule, and Cheyenne River. Fares for single rides are determined by distance and the type of health insurance a customer has. Specifically, there are three tiers:
Insurance Fare Tier

Description

Fare-free rate tier (Tier 1)
Fares are fully discounted for customers who are:

Uninsured/pay out-of-pocket for all healthcare costs
Insured through Medicaid
Insured through Medicare with no supplemental care
Insured through Medicare under the age of 65
Insured through Medicaid as a secondary payer
Veterans living in Highly Rural Counties (with under 7 people per square mile)

Half rate tier (Tier 2)
Fares are discounted by half for customers who have coverage through the Health Insurance Marketplace. Patients can purchase this insurance through a website or an enrollment specialist. Customers can receive subsidies on their Marketplace Insurance premiums depending on their income and if they are not eligible for other insurance through government programs or their employer.
Full rate tier (Tier 3)
Customers who purchase Medicare supplements or have private health insurance through their employer or outside the Health Insurance Marketplace must pay full fare for rides on the NEMT service.
Avera designed this sliding scale system based on guidelines from the Social Security Administration and the Centers for Medicare and Medicaid Services and determines the appropriate fare tier on a case-by-case basis for customers with insurance that falls outside the above parameters.
In looking to be sensitive and respectful of patients, the Transportation Coordinator only asks the customers for their insurance and pick-up and drop-off locations to determine the ride fee. Depending on distance of a ride, a full rate fare ranges from $3 to $55 (so $1.50 to $27.50 for customers in the half rate tier and $0 for all rides for customers in the fare-free rate tier). Customers must pay their fares by redeeming a pre-loaded fare card on board the vehicle. As long as customers request their rides at least five days ahead of time, River Cities Public Transit will not refuse NEMT ride service. Moreover, customers can cancel their ride appointments up to one day in advance.
Both Avera and RCPT provide vehicles and drivers for this NEMT service. Specifically, Avera St. Mary's Hospital has a fleet of two ADA-accessible minivans driven by volunteers. RCPT allows for any of its vehicles to be used for this service. Averas' vehicles are mainly used for in-town trips in Pierre, while vehicles from RCPT are used chiefly for longer-range trips. Avera and RCPT use Shah Software for dispatching and scheduling trips.
The Avera-RCPT NEMT Program is small in its reach compared to other Integrated Mobility Innovation pilots, largely because it has a very specific target audience. Between June 2021 and April 2022 completed 189 ride appointments, 165 of which were operated by River Cities Public Transit; the remainder were operated by volunteer drivers. 46 unique patients used the NEMT service, the majority of which were insured through Medicaid, Medicare, and the Indian Health Service. Avera has observed a significant reduction in missed appointments due to this service becoming available to patients.


Description: Graph representing Ride Appointments on Avera-RCPT NEMT Service.
Credit: Shared-Use Mobility Center with data provided by RCPT

Description: Graph representing Health Insurance Status of Avera-RCPT NEMT Customers.
Credit: Shared-Use Mobility Center with data provided by RCPT
The bulk of funding for the Avera-River Cities Public Transit NEMT pilot comes from a $401,760 IMI grant from the Federal Transit Administration. As a federal grant condition, grantees must fund 20% of the project's budget, at about an additional $100,000. Avera St. Mary's Hospital and RCPT have agreed to evenly contribute to this matching 20%, or 10% each. RCPT uses its dollars to provide and maintain vehicles and pay transit agency staff who operate the vehicles. Avera uses its funding during the pilot period to pay the wages for an onsite Transportation Coordinator who manages the programs' day-to-day operations, like determining participant eligibility, scheduling rides, and collecting payments. Additional revenues for this pilot come from fares paid by Tiers 2 and 3 customers and from funds from Medicaid and other government sources that pay for the rides of some Tier 1 customers.
Avera and River Cities Public Transit primarily market the NEMT pilot to existing hospital patients. Whereas transit agencies tend to market many of their existing services and new pilots to the general public through banners, advertisements, websites, and open houses, Avera and RCPT communicate the availability of this service to a narrow population. Clinics and offices based at and affiliated with Avera St. Mary's Hospital know to direct their patients to the hospital's Transportation Coordinator if customers express a need for transportation to or from their appointments. This communication between patients and their hospital professionals serves as the primary marketing method for potential users of this NEMT service. Elsewhere, Avera and River Cities Public Transit have marketed the NEMT pilot to the broader public on a limited basis. For example, both program partner organizations ordered a radio advertisement in January 2022 with the following script.
This non-emergency medical transportation pilot is designed to be accessible to people based on their ability to pay. For that reason, equity is central to the operation of this pilot. The fare structure, which depends on what type of health insurance one has, is designed to eliminate any cost barriers in using transportation to access healthcare. While many patients enrolled in the Medicaid, Medicare, or private plans through the Patient Protection and Affordable Care Act might have access to healthcare services with no out-of-pocket or discounted costs, transportation costs can be enough to hinder access to healthcare. This barrier can negatively affect the health of individuals while also placing excessive burdens on healthcare systems; often, people who do not access preventative or routine care due to a lack of transportation end up using emergency rooms in more dire circumstances.
All vehicles that Avera and RCPT operate for this service are ADA-accessible. Averas' two minivans can each fit a single passenger in a wheelchair. RCPT operates many more vehicles, all of which are ADA-accessible and equipped with lifts and automated external defibrillators (AEDs).
The model behind this new sliding scale NEMT service between Avera and River Cities Public Transit demonstrates promise. People have a unique medical transportation option that Avera St. Mary's Hospital actively encourages patients to use. Eliminating the transportation barrier for patients can benefit their health by improving access to preventative healthcare and lowering costs for both patients and the hospital. The sliding scale model is an essential piece of soft infrastructure, and both program partners are exploring how to sustain the program moving forward. Overall, the Avera-RCPT NEMT partnership has three challenges:
Deadhead miles: A large proportion of the miles driven through RCPT and Avera's fleet are used before picking up or after dropping off customers. RCPT hopes that software and data can inform them how to distribute their transit vehicles better to decrease vehicle miles traveled.
Funding: Avera and RCPT receive no public funding from the State of South Dakota to support its transit services. Once the IMI grant dollars are depleted, Avera and RCPT must seek another funding source, either private, public, or philanthropic, to support a sliding scale NEMT service. Currently, South Dakota is one of twelve states that have opted out of expanding Medicaid resulting from the 2010 Patient Protection and Affordable Care Act. [2] In November 2022, South Dakotans will vote on whether or not to amend the state constitution to expand Medicaid. If South Dakota adopts the Medicaid expansion, RCPT and Avera will have access to a larger pool of dollars, allowing these partners to offer more NEMT rides through their sliding scale service and as certified Medicaid NEMT providers.
Staffing: Like many employers across the United States, both Avera and RCPT have had difficulties with fully staffing all of their positions. At one point, Avera had no Transportation Coordinator to schedule NEMT appointments and maintain the IMI program's database. Avera and RCPT managed to work around this challenge to ensure the smoothest possible delivery of the NEMT program but found that hiring a new Transportation Coordinator took longer than planned.
Innovation in shared mobility does not always require new technologies or program names. Instead, innovation can involve securing or advancing partnerships or reframing existing services. Avera and River Cities Public Transit coordinated the provision of NEMT services well before they secured the Integrated Mobility Innovation grant from the Federal Transit Administration. Receiving the federal grant dollars enabled Avera and RCPT to reimagine their partnership so that NEMT became more accessible. The challenge for RCPT and Avera moving forward is not if this sliding-scale fee service should exist but how to sustain and expand it. Avera and River Cities Public Transit hope this NEMT service grows soon and other community hospitals and clinics can establish similar programs. The innovative fare structure devised for this pilot is transferable to other rural communities across South Dakota and the United States.
Key Considerations for Developing a Non-Emergency Medical Transportation Partnership:
What is the purpose of the potential non-emergency medical transportation service? To reduce healthcare barriers for patients? To lower costs for hospitals? Can providing NEMT service carry long-term benefits for both users and the provider(s)?
What are the service areas for your transit and/or hospital system(s)? How will the service area for the NEMT partnership mirror these service areas?
What resources already exist between partner agencies? Vehicles? Technology solutions? Vehicle operators? Staff? How can partner agencies use these resources for a new service? What new resources should partners procure?
How will partner agencies support this pilot? External funding sources are often available from public and private entities. How can partner agencies support this type of service beyond a pilot testing period?
How will you determine fare structures for customers? By distance? By health insurance type? How will the program partners collect the fares?
How will partner agencies cooperate with one another in this pilot? What can each of these partner organizations uniquely offer to support this pilot? Staffing? Vehicles? Technology?
How will you market the NEMT service? Only to hospital patients or to the broader public?
How will customers request rides? Can they request NEMT rides in real-time or so many hours or days ahead of time?
What opportunities exist to partner with community organizations or health centers to determine need and assist in outreach?
Watch an interview with Chuck Quinn who oversaw the implementation of the Avera-RCPT NEMT program.
Published on July 21, 2022
Related Items