AV Shuttle Pilot Launches in Suburban Park, Cary, NC, 2023
5 minutes Date Launched: Mar 6, 2023 Pilot Project Timeframe: 3 months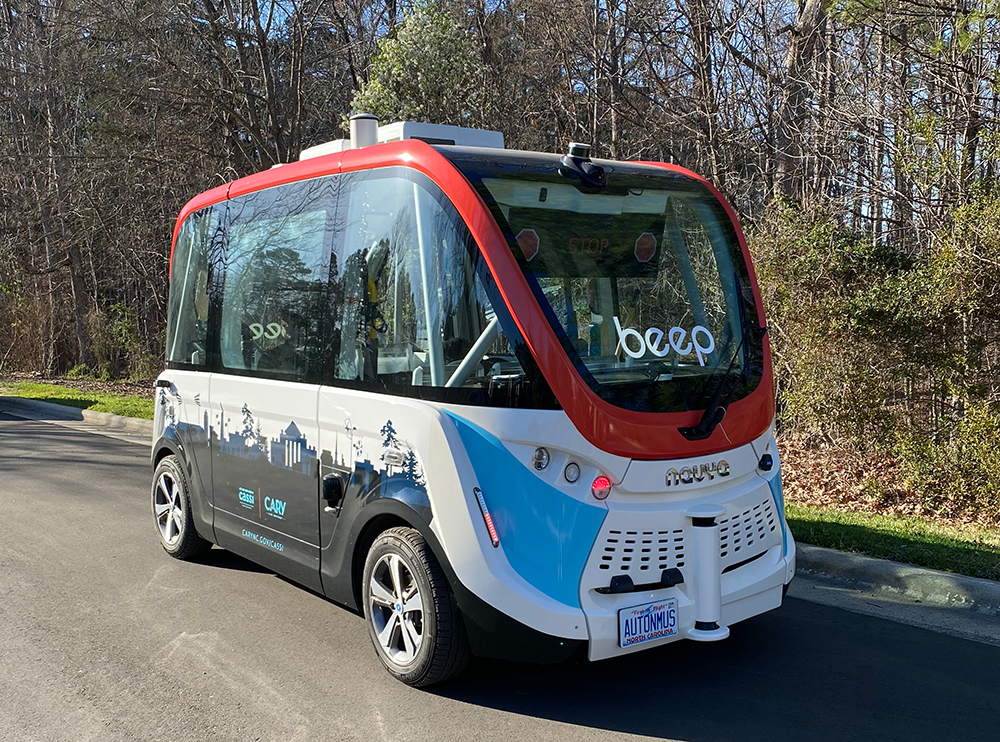 Summary
The North Carolina Department of Transportation (NCDOT) and the Town of Cary have partnered to test an autonomous vehicle (AV) shuttle service at Fred G. Bond Metro Park. The shuttle, called CASSI (Connected Autonomous Shuttle Supporting Innovation), operates on a fixed four-stop route from 10 AM to 4 PM, Monday through Friday. One of the stops for CASSI is the Cary Senior Center. Only one vehicle is in the CASSI fleet, and the service is fare-free. The CASSI vehicle was manufactured by Navya, is operated by Beep, and can move at a maximum speed of 12 miles per hour.  The vehicle is wheelchair-accessible vehicle and can seat up to eight passengers, including a staff attendant. The attendant can also manually operate the shuttle when necessary.
Description: NCDOT video feature on CASSI in Cary.
Credit: North Carolina Department of Transportation
Both NCDOT and the Town of Cary are testing CASSI to see how AVs can operate in particular environments. Previously, NCDOT deployed CASSI at the Wright Brothers National Memorial in Kitty Hawk and the North Carolina State University Centennial Campus. Community members can also see a demo of the CASSI vehicle at an Earth Day event at Fred G. Bond Metro Park in late April 2023. Many AV pilots have occurred in more controlled environments like parks, demonstrating their utility in carrying passengers for short distances and particular uses.
Last updated May 16, 2023