City Expands Bikeshare Program with 300 New E-Bikes, New Orleans, LA, 2023
5 minutes Date Launched: Jan 11, 2023 Dates given are approximate.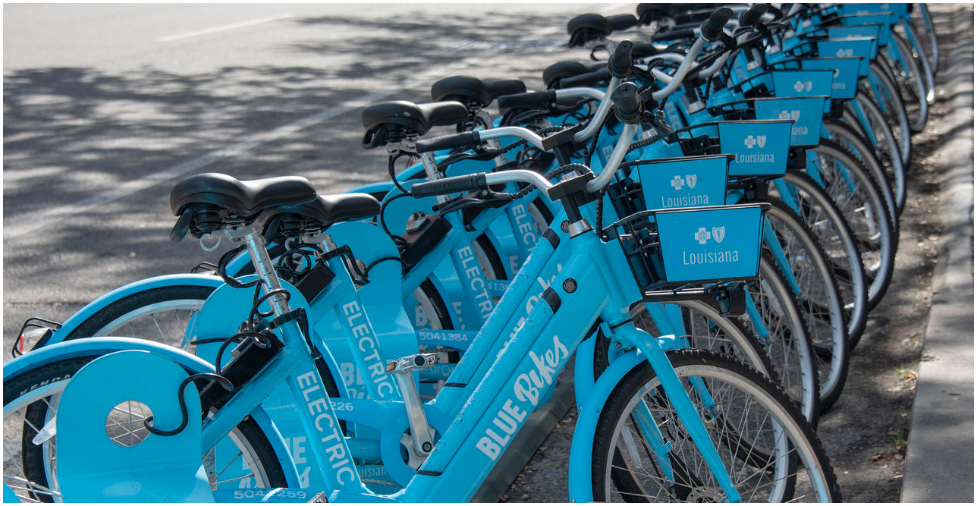 Summary
Blue Krewe, the nonprofit organization that operates and manages Blue Bikes, the City of New Orleans' bikeshare, is adding 300 new pedal-assist electric bicycles to its fleet. This 300 e-bike addition will bring the current Blue Bikes fleet to over 800 bikes, well on the way to the city's goal of having 2,500 bikes by 2025, as outlined by the New Orleans Climate Action Plan released in December 2022. 
Users can rent a Blue Bike through the Blue Bikes Nola app. After a $1.00 unlocking fee, riders are charged $0.15 per minute. Alternatively, a Blue Bike membership is $25.00 per month and includes up to 60 minutes of time per day with no unlocking fee. Blue Bikes also offers a reduced fare program of $4.00 per month for riders who qualify for SNAP (ie. food stamps) or Medicaid. 
Blue Bikes first launched in 2017, but the original for-profit operators pulled out of the market in 2020. Blue Krewe, with sponsorship support from Blue Cross and Blue Shield of Louisiana, brought Blue Bikes back to New Orleans in August 2021. Since relaunching, roughly 47,000 Blue Bike riders have taken more than 250,000 trips. Bikeshare is a sustainable, affordable, and healthy mobility option that can build upon existing transit networks to expand transportation access and connect communities. 
Last updated February 14, 2023