Santa Monica Pilots Zero Emissions Delivery Zone, 2021
5 minutes Date Launched: Feb 1, 2021 Dates given are approximate.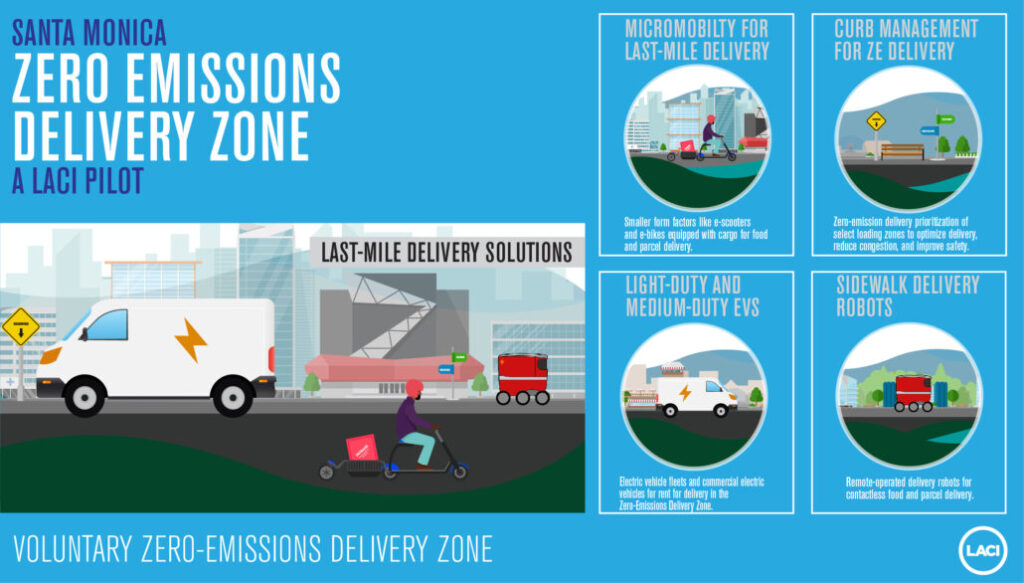 Summary
The City of Santa Monica, California, in partnership with the Los Angeles Cleantech Incubator (LACI), has launched a voluntary Zero Emissions Delivery Zone (ZEDZ). Scheduled to operate until the end of 2021, the one-square mile ZEDZ is home to nearly 16,000 residents and encompasses two commercial districts, Downtown Santa Monica and its Main Street.
The Zero Emissions Delivery functions by giving priority curb access to zero emission last-mile delivery vehicles, like cargo-equipped e-scooters and e-bikes, light-duty and medium-duty electric vehicles, and sidewalk delivery robots. Stakeholders in this pilot currently include six delivery partners, such as IKEA and FoodCycle LA, eleven advisory partners, such as the Southern California Association of Governments and LA Metro, and eleven technology providers, the most prominent being Automotus. Technology from Automotus will be used to anonymously monitor and analyze vehicle usage in designated curb zones.
Many local communities in the United States have looked to employ new and creative strategies that address pressing issues regarding congestion and the environment. If successful, this pilot can serve as a model for other communities on the local and regional levels on how to incentivize the use of cleaner vehicles in response to climate change.
Last updated March 18, 2021