SusqueCycle Launches in Harrisburg, PA, 2022
5 minutes Date Launched: Oct 1, 2022 Dates given are approximate.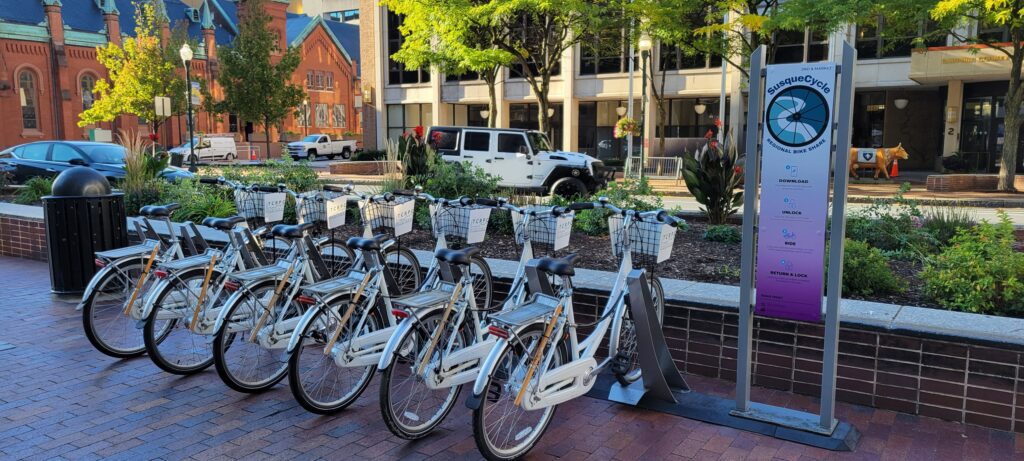 Summary
SusqueCycle, a bikesharing system, has launched in Harrisburg, PA. Through SusqueCycle, customers can borrow bicycles through an annual membership or by the ride. The annual membership costs $25 and gives customers access to an unlimited number of rides up to 30 minutes. Customers without the annual membership can use the bicycles at a rate of $1.50 for every 30 minutes. At this time, SusqueCycle has a fleet of 36 bicycles and six docking stations across Harrisburg. Users can access the bicycles through a smartphone app. Tandem Mobility serves as the contractor that supports this bikeshare service.
SusqueCycle is the second bikeshare system to operate in Harrisburg; a previous system discontinued operations about two years prior, early in the COVID-19 pandemic. The Tri-County Regional Planning Commission is the public fiscal agent for SusqueCycle, with philanthropic support from the UPMC Pinnacle Foundation. With SusqueCycle, Harrisburg residents and visitors will have a useful new mobility experience for short trips across the city.
Last updated November 30, 2022