Train Service Offers Ridehails Service to Customers, Miami, Fort Lauderdale, and West Palm Beach, FL 2021
5 minutes Date Launched: Dec 1, 2021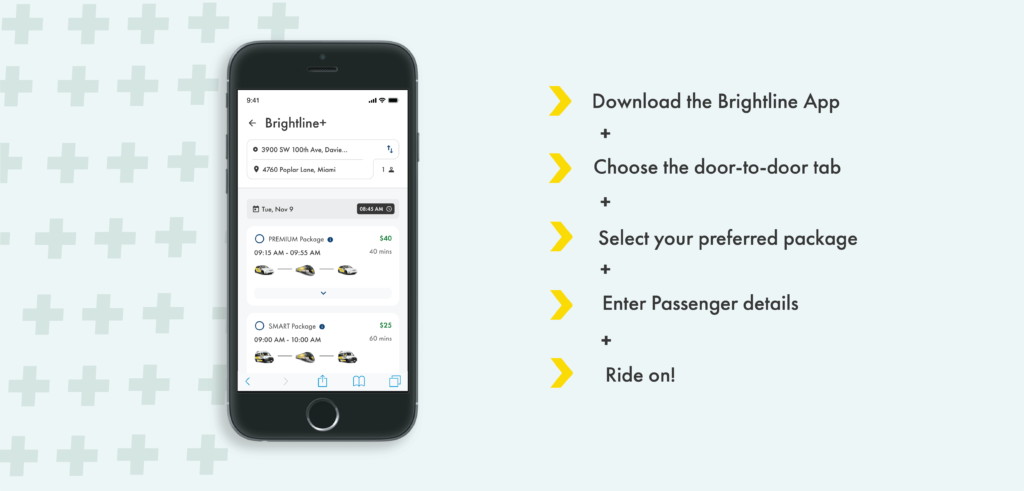 Summary
Brightline, a private train service in Florida, is now offering customers first and last mile mobility options to and from their stations. Through Brightline's app, customers can request shared or private rides through a service called Brightline+. Rides must take place within a 5 mile radius of Brightlines' stations in Miami, Fort Lauderdale, and West Palm Beach. The fleet for Brightline+ includes Tesla cars, shared electric vans, and electric shuttle carts provided by Circuit. As a promotion, private car rides will cost just $10 and shared rides will be free until the end of 2021. Other key partners in this ridehail integration effort include Iomob, Via, and Kapytn.

Description: Promotional video for Brightline+.
Credit: Brightline
Brightline is launching Brightline+ as it ends a hiatus of its services. The ridehailing service helps Brightline brand itself as a door-to-door mobility provider. Customers can also use Brightline+ to pay for parking at any of the train stations, and will soon be able to book and pay for micromobility services as well. In Florida, Brightline plans to expand its services to the Orlando International Airport by the end of 2022.
Last updated November 1, 2021