Shifting the Mobility Paradigm with Move PGH, Pittsburgh, PA
20 minutes Date Launched/Enacted: Jul 1, 2021 Date Published: October 13, 2021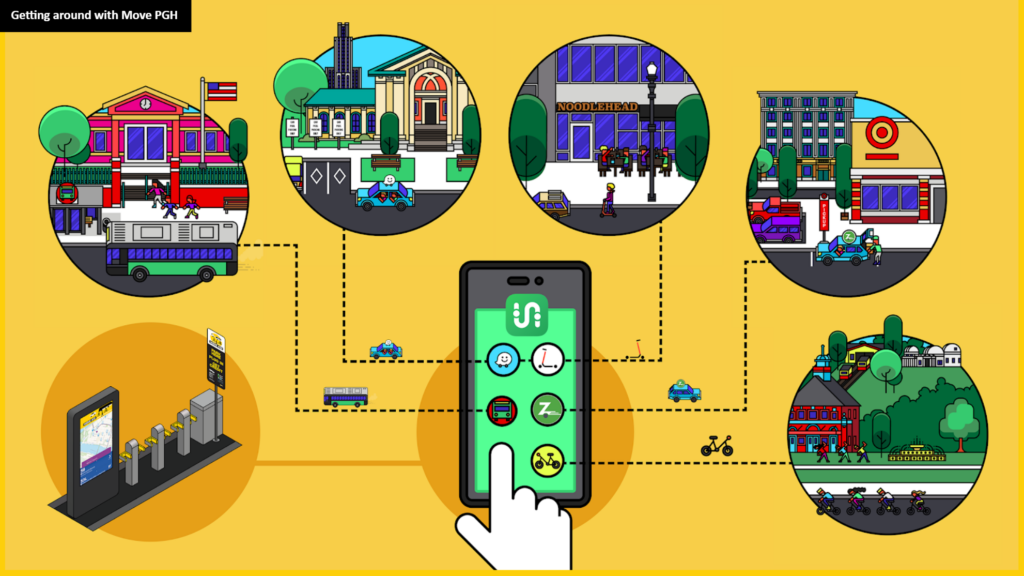 Brief Summary
Pittsburgh launched Move PGH, a program where customers can access a variety of mobility services through the Transit app and at Mobility Hubs across the city.
Move PGH offers e-scooters, bikeshare, carshare, public transit, carpooling services, and mopeds.
Alongside Move PGH, Pittsburgh is piloting a Guaranteed Basic Mobility program, where 50 low-income Pittsburghers can access all participating modes of transportation in Move PGH at no cost.
Move PGH is the first mobility as a service (MaaS) project of its kind in the United States. This initiative seeks to make different forms of shared mobility more appealing than individual car ownership.
Description: Video interview with Karina Ricks, who oversaw Move PGH's implementation.
Credit: Shared-Use Mobility Center
Introduction
What if you could learn about and access all of your transportation options from one place, both physically and on your phone?
Over the past decade, people have increasingly used smartphones as a tool for planning their transportation journeys. Need to check when your next bus is coming? The Transit app gives you an accurate schedule. Need to hop on an e-scooter? Use the Spin app to locate a scooter. Want to borrow a car for a trip to the grocery store? Book an hour or two with Zipcar on their app or website—or go onto the Uber app to hail a car. Depending on the community you live in, you have a wide range of transportation choices.
This development in the state of shared mobility has created a net good but also a significant burden. Switching from app to app can be inconvenient and shared mobility services are typically not placed alongside one another in communities, causing people to miss out on the full menu of available transportation options. For shared mobility providers, this hurts their ability to reach certain customer segments. Zipcar cannot market itself to people who do not realize that a short-term rental car is readily available to them. People who miss their bus might not realize that they can ride a shared bicycle nearby. This fragmented transportation system reinforces an automotive-centric culture, where communities see personally owned cars as the most practical transportation option in navigating one's day-to-day life.
Across the United States, different communities have tried to address this disconnect through developing mobility as a service (MaaS) solutions, which "integrate[] various forms of transport services into a single mobility service accessible on demand". [1] Projects like the GoPass app in Dallas, The COMETs' mobility initiatives in South Carolina, or Marin Transit's partnership with Uber in California implement different versions of MaaS. While all of these efforts brought positive effects in their communities, they each had significant limits.
Move PGH in Pittsburgh is arguably the most ambitious MaaS-oriented project in the United States. Hosted through Pittsburgh's Department of Mobility and Infrastructure (DOMI), Move PGH seeks to make shared mobility more convenient, accessible, and equitable by offering users an array of transportation options in one app, Transit and at centrally located Mobility Hubs. Alongside this, DOMI is also developing a Guaranteed Basic Mobility program that offers fare-free shared mobility options to low-income residents.
Reliable transportation is critical to quality of life. Families often coordinate schedules to align with public transit, which many people rely on to get to and from their jobs. For people without cars, public transit is often their only mobility option, and it is often underfunded and overburdened. As a result, many see privately owned automobiles as the preferred mode of transportation. This contributes to higher vehicle greenhouse gas emissions and out-of-pocket transportation costs, poorer public health, and car-centric land use patterns.
When the City of Pittsburgh established DOMI in 2017, it tasked the agency with transforming the transportation paradigm. DOMI operates on a set of mobility principles:
No one dies or is seriously injured traveling on city streets.
Every household in Pittsburgh can access fresh fruits and vegetables within 20 minutes travel of home, without the requirement of a private vehicle.
All trips less than one mile are easily and enjoyably achieved by non-vehicle travel.
No household must spend more than 45% of household income to satisfy basic housing, transportation and energy needs.
The design, maintenance and operation of city streets reflects the values of Pittsburgh's community. [2]
Staff at DOMI used these principles to implement Move PGH, where someone can easily discover and use different shared mobility modes. For example, a Pittsburgher at a light rail station or bus stop can see the arrival times of their buses but also use an app to use e-scooters, bikeshare, carshare, mopeds, or carpooling services.
Staff at DOMI used these principles to implement Move PGH, where someone can easily discover and use different shared mobility modes. For example, a Pittsburgher at a light rail station or bus stop can see the arrival times of their buses but also use an app to use e-scooters, bikeshare, carshare, mopeds, or carpooling services.
When the pilot began in July 2021, people could use the Transit app to view schedules, track vehicles in real-time, and plan multimodal trips with Port Authority of Allegheny County public transit, Healthy Ride bikeshare, and Spin scooters — as well as find Mobility Hub locations on the map. [3] These Mobility Hubs are located near transit stops and Healthy Ride stations, with reserved parking nearby for Scoobi scooters and Zipcar short-term rental cars. As Move PGH further develops, Pittsburghers will be able to access more transportation modes and services in the Transit app, realizing Pittsburgh's vision for MaaS.
Here are Move PGHs' participating services and their respective costs:
All transportation providers in Move PGH have or are developing discount programs for low-income users to address equity concerns. For example, Spin hosts the Spin Access program, which discounts costs at more than 50% for low-income riders and allows people without bank accounts or smartphones to borrow the e-scooters. Seniors, youth, and people with disabilities have been able to use Port Authority's public transit service at reduced costs for a significant period of time. People with ConnectCards can also use Healthy Ride bicycles for free up to 15 minutes at a time, while public housing residents can use Healthy Ride at no cost. [5]
Mobility Hubs serve as convenient locations to host Move PGHs' mobility offerings. Currently, customers can use Mobility Hubs to dock and charge Spin e-scooters, park Healthy Ride bicycles, and board Port Authority buses and trains. DOMI is also allowing jitneys, which are informal van services, to pick up and drop off customers at some of these locations. [6] Swiftmile supports the charging infrastructure for the e-scooters and TransitScreen provides screens at the Mobility Hub locations to give people real-time arrival information of transit services.
Pittsburgh proposes 50 Mobility Hubs to help customers access a variety of Move PGHs' services at centralized locations in diverse neighborhoods across the city. When more services become available, these Mobility Hubs have the potential to host Healthy Ride docking stations, carpooling and pick-up locations for Waze Carpool and Zipcar, and parking and charging spots for Scoobi e-mopeds.
Move PGH's implementation process emphasizes promoting equity. While some of Move PGHs' project partners, like Spin and Healthy Ride, offer discounts to low-income individuals, the Department of Mobility and Infrastructure is piloting a Guaranteed Basic Mobility benefit that provides bundled services to 50 low-income recipients. Through this one-year program, selected participants receive a free annual bus pass, free 30-minute rides on Healthy Ride bikeshare, five free 30-minute scooter rides per day on Spin, 100 minutes per month of free e-moped use through Scoobi, six hours of free Zipcar use per month, and certain allowances for reimbursement through using Waze Carpool. These benefits are estimated at $500+ worth of services per month. Because injuries are possible on some of these shared mobility modes, DOMI plans on only selecting participants with health insurance. This is to ensure that people do not incur additional financial burdens if they get hurt while using a Spin e-scooter, Healthy Ride bike, or another form of shared transportation.
Accessibility in Move PGH depends on the mode of transportation.
Public transit, at the core of Move PGH, accommodates people of all abilities.
Move PGHs' car-based modes of transportation accommodate people with disabilities to an extent as Waze Carpool and Zipcar customers can request wheelchair-accessible vehicles.
Zipcar also offers cars with hand controls if requested with advanced notice.
The Transit app displays whether Port Authority vehicles and stops are wheelchair accessible. For blind or visually impaired users, Transit is compatible with screen readers and can provide step-by-step audio navigation.
Spin and Move PGH are also collaborating with the City-County Task Force on Disabilities to design adaptive micromobility vehicles and services.
Because Move PGH depends on many different modes of transportation and vendors, DOMI focuses on a "first do no harm" approach while concurrently pushing toward universal mobility.
Move PGH has no public funding source. Program expenses include:
Integrating reservation and payment systems into the unified platform (the Transit app)
Required subsidized programs for low-income users
Mobility Hubs
Developing adaptive and inclusive design elements
Operations
Most of Move PGH's funding comes from the mobility providers' revenue. The Pittsburgh Department of Mobility and Infrastructure has waived permit fees to all of the mobility vendors if they provide discounted services to low-income customers. At this time, Scoobi, Spin, and Healthy Ride provide or plan to provide these services. The Port Authority of Allegheny County provides discounts to seniors, children, and people with disabilities.
The Richard King Mellon Foundation has provided a $600,000 two-year grant that supports outreach and public engagement, launch preparation, pilots and demonstrations in three target neighborhoods, and the Guaranteed Basic Mobility pilot program.
As shared mobility is not a profit-generating activity, Pittsburgh took a unique approach of limiting the number of competing providers to just one for each transportation mode. DOMI organizes regular meetings between the mobility providers to support a system that's economically sustainable and convenient to the user.
Move PGH markets itself through its mobility providers and the City of Pittsburgh. Transit, a key program partner with 80,000 pre-registered users in the Pittsburgh area, placed a banner advertisement for Move PGH in the app, and sent a push notification to active users in the area. Other partners of Move PGH, led by Spin, launched an aggressive paid and earned media campaign. The City of Pittsburgh supplemented this effort with social media posts and advertisements at different transit hubs throughout the city.


Description: Promotional video for Move PGH created by Benji, a local artist.
Credit: City of Pittsburgh

The City of Pittsburgh coupled much of its marketing for Move PGH with its outreach for the Guaranteed Basic Mobility program. Leading up to Move PGH's launch, the Department of Mobility and Infrastructure reached out to ten local community service organizations working with diverse populations who struggle with mobility access, like citizens returning from incarceration, immigrants, and low-income people of color. In the outreach process, DOMI solicited feedback on how these groups might react to or use Move PGH services. Many were concerned initially that the program was not designed for them.

As an outcome of these conversations, and a major commitment and subsidy from Spin, DOMI created the Guaranteed Basic Mobility demonstration pilot that includes participants from social service organizations. Instituted in partnership with the local Manchester Citizens Corporation, the pilot offers mobility subscriptions that can reduce or eliminate mobility insecurity for pilot participants. DOMI also engages local community members to serve as "ride coaches" and troubleshoot help requests.
Community Engagement – Much of Move PGH's work involves building trust with members of the community. DOMI works to maintain an open channel of communication with ten service organizations. When clients come to these organizations requesting assistance on job searches, housing applications, or applications for Medicaid and food stamps/Supplemental Nutrition Assistance Program, staff direct them to the Citys' new mobility services through Move PGH.
Building Trust –  Ride coaching emphasizes cultural sensitivity so that people become more comfortable and knowledgeable about how to participate in Move PGH. For example, people who are unfamiliar with Zipcar's services can "phone a (trusted) friend" who can guide them on how to use Zipcar's fuel payment structure or how to fill up the tank. This empathetic safety net can increase trust in the program, reduce frustration and help participants avoid fees for misuse.
Equitable Costs – Move PGH's other significant challenge involves ensuring that costs are equitable and integrating fares from all the mobility services into the Transit app. Right now, Port Authority public transit fares can be purchased in the app, with seamless connections to the Spin, HealthyRide, and Zipcar apps for booking and payment. As other services come aboard, DOMI has to consider how transactions will occur.
Move PGH is a pioneering effort for shared mobility in the United States. While many communities have experimented with mobility as a service on different scales, Pittsburgh is the first American city attempting to integrate different mobility options into a single app while co-locating these services alongside one another. Mobility Hubs across Pittsburgh are intended to serve as physical marketplaces where people can access different modes of shared mobility. The Transit app will serve as the discovery, multimodal route planning, and booking platform for most of the partners in Move PGH. In combination with the Guaranteed Basic Mobility program, the Department of Mobility and Infrastructure hopes to create a shared mobility system that better serves all residents.
At this time, Move PGH is only in its preliminary stages of implementation. Developing the program further has been and remains to be an iterative process, largely because it is unprecedented and alters Pittsburgh's transportation network. As Move PGH develops and evolves over the coming months and years, many hope that its ambitions become reality—expanding the level of access to public transportation and other modes of shared mobility and encouraging people to use more efficient and sustainable modes of transportation.
Key Considerations for Designing a Program with MaaS and/or Mobility Hubs:

What mobility options are available in your community? What is your plan to reach out to the community to assess their needs? What additional shared mobility options might be appropriate?

What are you looking for in a private partner? Do you want one transportation provider or more for each mode in your MaaS program?  

What intergovernmental partnerships should be in place to further the program, fill holes in the project team, and create broader support?

Consider what roles transportation partners can play in your project. What can they offer you that sets them apart from other potential partners? Can they meet the needs of your community? If not, are they flexible enough to adjust their offerings?

How will you

financially support your MaaS and/or mobility hub initiatives

? Customers? Foundation grants? Transportation providers? Private sponsors, Government dollars?

What form will your mobility hubs take? What services will be located at these mobility hubs? Where will the mobility hubs be located? What physical infrastructure is required?

Do you want an integrated discovery and booking platform for all transportation services? How can your app platform partner assist you in this integration process?  How will payment be managed across modes? Have you explored

transactional data specifications

to reduce the cost and complexity of the MaaS platform build-out?

Does your project include an equity component? 

How can low-income and unbanked individuals use your programs' mobility services? What options are already available to them and what do you need to create in coordination with your partners? Can your transportation provider partners provide accessible vehicles for people with disabilities?
Watch an interview with Karina Ricks who oversaw Move PGH's implementation.
A special thanks to Jeff Wood at The Overhead Wire for his assistance on the video interview audio.
Published on October 13, 2021
Related Items