Transit GO Rewards Program Launches for Residents and Workers in West Seattle, WA 2021
5 minutes Date Launched: Sep 1, 2021 Dates given are approximate.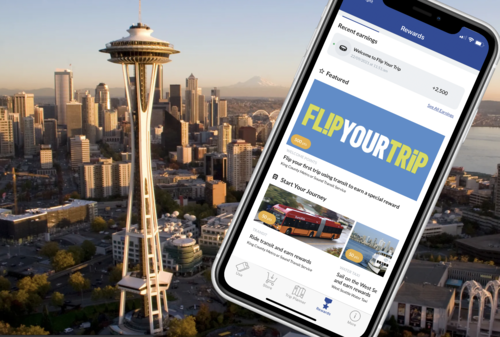 Summary
West Seattle commuters now have access to Transit GO Rewards as part of the Seattle Department of Transportation's Flip Your Trip campaign. The Flip Your Trip gives residents and workers a $25 sign-up bonus for free rides on transit, vanpool and micromobility services as a result of the West Seattle High-Rise Bridge closure. The West Seattle High-Rise Bridge, which supported more than 100,000 trips to and from the West Seattle peninsula per day, closed in March 2020 for repairs and is expected to re-open in 2022.
Participating transportation providers for Transit GO Rewards include:
Description: Promotional video for the Flip Your Trip Campaign.
Credit: Seattle Department of Transportation
Transit GO Rewards serves as a feature inside the Transit GO Ticket, a regional fare payment app. Customers earn points as they use different shared transportation services across the region. They can then redeem those points inside the app for fare-free rides on any of the participating transit or micromobility providers. Bytemark and Velocia support the Transit GO Ticket and rewards program respectively.
King County Metro plans to expand the Transit GO Rewards program across the Seattle region over time. The gamification of using transit and other shared mobility services can incentivize customers to shift their transportation mode choices over the long term.
Last updated November 1, 2021