Free-Floating Bikeshare Summary Report, Q2, Seattle, 2019
5 minutes Date Launched: Jul 1, 2019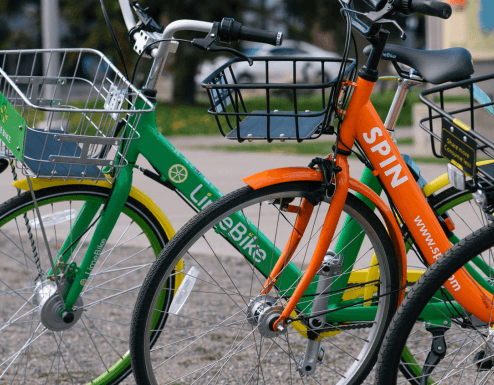 Summary
Seattle Department of Transportation (SDOT) releases a monthly report on its dockless bikeshare program, as well as quarterly summary reports. The report for Q2 (April-June) of 2019 details some of the larger trends SDOT is seeing in regards to bikeshare usage. As of summer 2019, Jump and Lime are the two private vendors operating in the city, while Lyft has been permitted but has not yet launched.
Ridership: SDOT determined that nearly 900,000 trips were taken in the first half of 2019. There were 595,000 trips taken in Q2 2018 compared to 588,000 in Q2 2019. However, SDOT views this small dip in ridership as a promising sign for bike demand, because ridership remained relatively high despite the fact that total fleet size was cut in half (from 10,000 in 2018 down to 4,000-6,000 in 2019). According to SDOT, this decrease in available bikes "could be related to a number of factors, including e-bike production delays experienced by bike share vendors and nationwide market shifts".
Parking: As of July 2019, SDOT is on track to add parking for 1,500 bikes by the end of the year. Most of these new parking locations are in the form of corrals near intersections.
Adaptive Bike Program: SDOT has partnered with Outdoors for All, a local nonprofit that is working with the city to increase access to their adaptive cycle fleet, which includes hand-cycles, tandems, and other cycles designed for people with various disabilities. These bikes are available for rent at Magnusson Park for free. The usage goal for all of 2019 was already achieved by July 2019, with more than 100 unique riders
Read the Seattle Bikeshare Permit Case Study to learn more about the program and its launch.
Download Supporting Documents