SUMC Webinar–Sharing in Action: Micromobility in Local Climate Strategies, January 25, 2023
60 minutes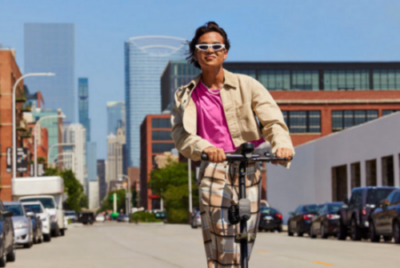 Summary
On January 25, 2023, the Shared-Use Mobility Center (SUMC) hosted a webinar panel discussion after publishing Sharing in Action: Micromobility in Local Climate Strategies. In this paper, SUMC evaluated the climate action plans of more than 30 U.S. cities to identify model language on micromobility as a climate change strategy.

Visitors to SUMC's Mobility Learning Center can watch a recording of the panel discussion and access slides from all presenters below:
Description: Video recording of webinar on micromobility and climate change.
Credit: Shared-Use Mobility Center (SUMC)
Panelists:
Nate Seeskin (moderator), Program Coordinator, Shared-Use Mobility Center

Tejus Shankar, Policy Development Manager, Transit, Bikes and Scooters, Lyft

Alyssa Muto, Director, Sustainability and Mobility Department, City of San Diego

Mary Nicol, Director of Policy, Chicago Department of Transportation

Mike Salisbury, Transportation Energy Lead, Denver's Office of Climate Action, Sustainability and Resiliency
Presentation Slides:
Click here to watch the entire presentation in a separate window.
Last updated February 15, 2023