A Review of Shared Mobility in 2022
15 minutes Date Launched/Enacted: Jan 9, 2023 Date Published: January 10, 2023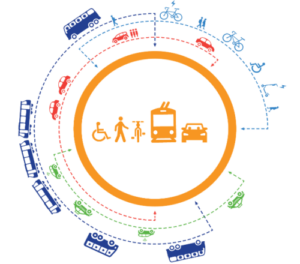 Through the Mobility Learning Center (MLC), the Shared-Use Mobility Center (SUMC) tracks trends and trajectories in the shared mobility industry. For the top 25 metropolitan areas in the U.S., SUMC collects data on bikeshare, scooter share, carshare, and public-private partnerships, which we showcase in our Metro Profiles. Each year, we review and report on emerging technologies, markets, and innovations and compile these insights into a report on what shared mobility looks like for the year. Below is an overview of the shared mobility landscape in 2022 from our publications, articles, news overviews, and Metro Profiles data.
Bikeshare has been resilient, and the mode has been steadily growing since its downturn early on in the COVID-19 pandemic. New bikeshare programs emerged throughout the country, including in Portland, ME, marking the first bikeshare system in the state. Our Metro Profiles data showed steady growth of the mode in 2022; In the 25 metropolitan areas studied, ten systems expanded or made plans to expand their fleets, accounting for a 14% increase in bikeshare fleets throughout the country. Bikeshare's growth was not universal, with six of the 25 metropolitan areas seeing a decrease in bike fleets. Even so, the overall development of the mode countrywide is promising for the micromobility industry.
More and more cities and towns are piloting electric bikeshare programs or incorporating electric bikes into their existing fleets. In Boise, ID, Valley Regional Transit partnered with Drop Mobility to pilot an electric bikeshare program, providing a fleet of 50 e-bikes to the city. Meanwhile, Milwaukee's bikeshare operator Bublr expanded their bike fleet by introducing 400 new e-bikes to the city. Other new e-bike systems include Charleston, SC, which added 200 new e-bikes through a partnership with Lime, and Pacoima Beautiful, an environmental justice non-profit organization, which launched an e-bike library in Los Angeles. The rapid growth of e-bikes shows that shared electric mobility is on an upward trajectory.
While scootershare did not have the same resiliency as bikeshare in 2022 (from our Metro Profiles data, we observed a slight reduction in shared scooter fleets overall in the 25 largest metro areas), there are some promising trends in the industry. Notably, 2022 saw scootershare break into new markets and new communities. Small and medium towns especially are benefiting from a micromobility boom (like Albemarle, North Carolina, population: 16,000, or Austin, Minnesota, population: 26,000), and many agencies in these communities are working to incorporate scootershare into their systems.
Some of the volatility of the scootershare systems and fleets is related to instability in the industry, with some tech and micromobility companies facing financial challenges and layoffs. This trend may have contributed to the withdrawal of fleets from some smaller and medium-sized communities. [1] On the other hand, some cities, like Chicago and New York, implemented permanent e-scooter programs. [2]
2022 also brought new scootershare and micromobility technologies. For example, Chicago partnered with Lyft to launch the country's first docked scootershare program. Also, in Long Beach, micromobility company Lime piloted the Citra, a new all-electric vehicle that fits somewhere between a scooter and a moped. Innovations like these are moving the micromobility industry forward.
In 2021, we reported that carshare as a mode remained relatively stable as the industry recovers from the COVID-19 pandemic. This year, we observed a slight decline in carshare fleets in the 25 metro areas examined. However, despite smaller fleets overall, the carshare landscape has shown promising trends, particularly in electrification. Evie, an electric, municipality-owned, free-floating carshare service, launched in the Twin Cities in February. Its fleet of over 170 all-electric vehicles has logged over 25,000 trips in its first year of operation. Other all-electric carshare programs emerged in 2022 with Envoy in Honolulu, Hawai'i, DRIVE in Albany, New York, and others around the country. These programs exemplify the growing push towards electrification and can serve as models for similar carshare initiatives.
Microtransit has progressed in recent years as agencies work to improve and expand transportation access, particularly to areas with unreliable or nonexistent fixed-route service. 2022 saw the growth of microtransit through expanded or newly launched programs around the country. Some agencies, like curb2curb in Houston and FlexRide in Milwaukee, grew their existing service to new areas, reaching new customers and demonstrating the success of their programs. Additionally, new programs in rural, urban, and suburban areas have launched this year, including YAV in Prescott Valley, Arizona, Metro Transit Micro in Minneapolis, METRO Connect Conway in Conway, Arkansas, Chandler Flex in Chandler, Arizona, and many others. For a deeper dive into some innovative microtransit programs, read our MLC case studies on GoWake SmartRide NE in Wake County, North Carolina, and BRATS in Baldwin County, Alabama.
2022 has seen novel policies and pilots on the local and state level that bolster equity in the use of shared mobility. Bakersfield, Los Angeles, Oakland, and Pittsburgh are piloting universal basic mobility benefit programs, which offer fare-free access to public transit and other shared mobility systems, like bikeshare and scootershare, for targeted groups of low-income individuals. Cities and states like Austin, Denver, and Hawai'i are offering enhanced rebates for low-income purchasers of e-bikes. At the same time, the City of Chicago used federal dollars from the American Rescue Plan Act to launch Bike Chicago, a program that gives free bicycles to 5,000 low-income residents experiencing mobility insecurity. Often, personal and shared micromobility can be prohibitive to many populations, and programs like these recognize that improving access to micromobility is integral to creating a more equitable transportation system. Hopefully, 2023 will see more initiatives like these.
Some agencies and mobility providers have upped efforts to electrify their fleets in 2022 to help combat the climate crisis. In Albuquerque, ABQ Ride added five new electric buses to its fleet, which follows the city's plan to transition to a 100% electric fleet by 2040. The City of Richmond, in the Bay Area, launched Richmond Moves, an electric microtransit service, with funding from the Clean Mobility Options Voucher Pilot Program. As mentioned above, Evie, an electric carshare program, launched in the Twin Cities. Many communities are also seeing a transition to electric bikeshare programs, and Chicago established a new trend in 2022 with the introduction of on-site charging at five docking stations for its Divvy bikeshare system. On-site charging for bikeshare systems can reduce the vehicle miles traveled required by bikeshare maintenance fleets to swap batteries.
2023 will see the evolution of these trends and others as the demand for electrification and shared mobility advances and the implementation of new federal policies continue. Policymakers and researchers can use the Shared Mobility Benefits Calculator when considering the impacts of existing, upcoming, and potential shared mobility projects in their communities.
As with previous years, data collection for the Metro Profiles came through researching specific information on program fleets from shared mobility providers, local transportation departments, and media sources. At some points during our analysis, we could identify the exact number of vehicles in the fleet. At other points, only information on the fleet caps was available; on the Metro Profiles, that information is noted as such.
The quality of data also varied between different providers. For example, some providers directly listed their fleet numbers, while others required that we manually count the vehicles on maps or contact vendors or officials at local transportation departments. Peer-to-peer carshare vendors, like Turo or GetAround, also have dynamic information on their websites, further complicating data collection. We also recognize that peer-to-peer car lenders might list their vehicles on multiple platforms, making counts for individual vehicles potentially duplicative. We sought to simplify the data collection in peer-to-peer fleets by counting the cars only once after searching for all vehicles in a city. More information on our methods can be found here.
The inconsistency of data quality points to a challenge many in the mobility industry are looking to address. Often, the data offered by shared mobility vendors are proprietary, making it difficult for customers and cities to access and understand. Data standards like the General Transit Feed Specification have democratized the information that mobility providers share with their communities, making high volumes of data open source. Partners in the mobility industry should work to offer data transparently to their users. Cities, transit agencies, and regulatory authorities can stipulate that vendors use or adopt new specifications as part of their permitting and procurement processes.
2022 has been a consequential but uncertain year for shared mobility. While shared mobility systems have grown, with innovative pilot programs deployed in communities across the US and the increasing electrification of fleets, volatility is also seen across the industry. Some mobility providers are undergoing challenges due to economic uncertainty and, as a result, laying off large parts of their workforce and scaling back their fleets.
On the national level, new policies like the Infrastructure Investment and Jobs Act (IIJA) and the Inflation Reduction Act (IRA) acknowledge a need to expand transit and increase the electrification of vehicles as tools to address climate change. While SUMC believes more aggressive policies are necessary on the federal, state, and local levels to shift away from a car-centric culture, IIJA and IRA establish a new tone that empowers policymakers and communities to implement solutions that bolster shared mobility. [3, 4] SUMC's Shared Mobility 2030 Action Agenda seeks to bring the public, non-profit, and private sectors together as collaborators so that shared mobility is a more tenable resource for individuals and communities than driving a personal car by 2030. 2022 was a promising year for shared mobility. Will 2023 demonstrate that shared mobility continues on an upward trajectory?
Last updated January 10, 2023
Related Items