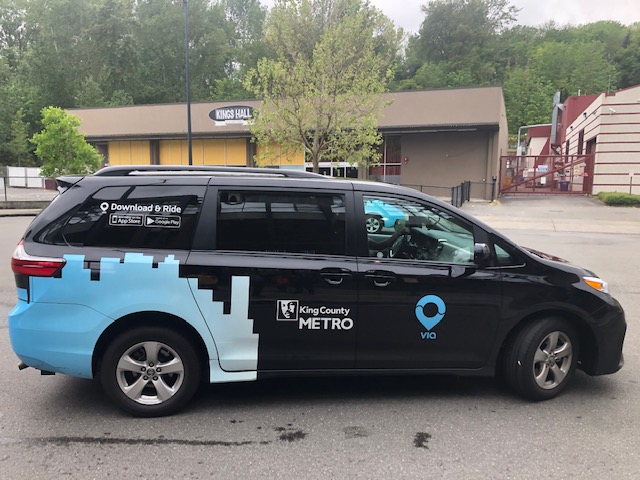 Microtransit, like most on-demand mobility services, is less a completely new mode than an evolution of existing modes enabled by technology. Unlike many of the other shared modes, microtransit can take many forms in how it operates, the types of vehicles it uses, and the forms of partnerships (if any) that enable it. This variation leads to a wider range of definitions than the other shared modes, as discussed below. The broad range of possible applications for microtransit can also lead to its use for meeting existing transportation challenges. This Learning Module attempts to bring the mode into focus for public agency planners. An examination of previous pilots and resulting studies indicate that microtransit is not a one-size-fits-all solution. Rather, it is one of many tools available to help meet the mobility needs within a community.
The Federal Transit Administration (FTA) currently uses the definition from the SUMC-authored Shared Mobility and the Transformation of Public Transit (TCRP Research Report 188), which captured the innovations in the early operation of the mode as an: "App-enabled private multi-passenger transportation service that serves passengers using dynamically generated routes, and may expect passengers to make their way to and from common pick-up or drop-off points."
SAE International broadly defines microtransit as "a privately or publicly operated, technology-enabled transit service that typically uses multi-passenger/pooled shuttles or vans to provide on-demand or fixed-schedule services with either dynamic or fixed routing" (SAE J3163™, Taxonomy and Definitions for Terms Related to Shared Mobility and Enabling Technologies).
A more recent report, Microtransit or General Public Demand–Response Transit Services: State of the Practice (TCRP Synthesis 141), is more specific, defining microtransit as "shared public or private sector transportation services that offer fixed or dynamically allocated routes and schedules in response to individual or aggregate consumer demand, using smaller vehicles and capitalizing on widespread mobile GPS and internet connectivity."
These definitions all locate microtransit as a transportation service between fixed-route transit and ridesourcing operations. Fixed-route transit services have defined stop locations, routes, and schedules and usually operate along straight lines/corridors. In North America, they are typically funded and operated by government agencies, though private services, such as company shuttles and jitneys, also exist. Ridesourcing is on-demand, point-to-point service that may or may not be shared, with hailing/reservations, dispatch, routing, and payment supported enabled by location-aware mobile computing platforms.
Microtransit services draw components, to varying degrees, from both types of service. It resembles traditional demand-responsive transit (DRT), such as dial-a-ride, in that it often uses similar vehicles (passenger vans or cutaways) but with improved dispatching and routing, enabled by various mobile technologies, especially location access through smartphones or mobile tablets. Rides may be arranged through a smartphone app, in addition to more traditional phone- or web-based booking systems.
The term microtransit can encompass a variety of approaches to providing pooled trips, ranging from fully private direct-to-consumer pooled rideosourcing services in passenger cars to general public services funded by government agencies with agency-branded vehicles that support a region's mobility goals.
For the public sector, microtransit faces a conundrum: It is almost always less productive than traditional fixed-route transit in terms of trips per vehicle service hour (as circuitous, point-to-point routes can reach fewer people per hour than straight-line ones). If the service becomes more popular, vehicles and drivers (i.e. cost) must be added to accommodate the growth and maintain service quality, in which case fixed-route transit might be the more appropriate or cost-effective solution because of its ability to scale.
In practice, this means that privately owned microtransit, like many newer shared mobility services, operates in areas with sufficient density to support more efficient pooling of rides–areas that are also productive for fixed-route transit. On the other hand, general public microtransit could be deployed in areas where fixed-route transit is difficult to operate productively, or where a flexible service might provide first/last-mile connections with faster response times than is possible with scheduled service. It can be a tool to serve populations in low-density areas that are low-income, lacking other mobility options, or in political jurisdictions that are contributing to transit funding.
The microtransit services described above broadly share these characteristics:
Allows riders to request trips on demand, rather than hours or days beforehand (although advance reservations are possible)
Allows for electronic payment
Provides the ability for users to manage personal information, payment method, and ride history, and to request rides and provide feedback on the service
Provides real-time information related to vehicle location before and during the trip
In some services, particularly general public microtransit services, users can also request services by a voice call handled by a call center.
Microtransit may operate in a variety of service designs, including:
A partially scheduled service, usually in relation to a transfer point to other transit services, or main destination within the service area.
An on-demand service along a corridor or designated route, picking up and dropping off passengers at designated or ad-hoc stops.
Fully on-demand service within a coverage area, offering either a door-to-door or a virtual stop service.
Accessibility: Microtransit–whether privately owned or general public–falls under US Department of Transportation Americans with Disabilities Act regulations. The Federal Transit Administration hosts a page "Shared Mobility FAQs: Americans with Disabilities Act (ADA)."
Curb-to-Curb: As the name suggests, a vehicle will arrive at the trip origin and end at the requested destination, within the right of way. This is to distinguish it from the door-to-door service provided by some human service operators.
Virtual stops: Dispatching software allows the operator to create an efficient route to multiple origins and destinations. From there the operator may, through a location-aware mobile app, direct users to pick-up locations and set drop-off locations within a reasonably walkable distance of origins and destinations, thus enabling the grouping of passengers to reduce stops and increase vehicle utilization. Sometimes also referred to as corner-to-corner service.
Flex route within coverage area: A flex-route service behaves much like a ridesharing service, in which the route is determined by riders' origins and destinations within a predetermined geography.
Fixed-route, plus on-demand area: In uniformly high-density contexts, vehicles travel along mapped routes that resemble fixed-route bus service. For contexts where density varies, the vehicles run on fixed routes in dense areas, or floating stops with high demand. Once it approaches a less-dense/low-demand area, the service can switch to flex-route service.
General Concepts
A coverage area is the geography within which the service operates. Since most microtransit service designs involve flex routes, the coverage area limits the maximum possible length of a trip.
Hubs and transfer points: A hub is a fixed origin or destination, usually near a high demand residential, institutional, or commercial area. While usually a terminal, if there are multiple coverage areas, it can serve as a transfer point between vehicles for users moving from one zone to another.
Privately owned microtransit: This service uses similar technology to ridesourcing companies–and is currently operated by the same companies–and uses either company-branded vans or the drivers' vehicles, such as SUVs or vans. The rides are shared, and the individual riders might need to walk a short distance to meet their ride in order to optimize the route. UberPool and Lyft Line are the brand names of those services. Microtransit direct-to-consumer markets operate in a similar way.
Vehicle types: As mentioned above, microtransit might operate with a variety of vehicles. Example vehicle types currently in operation are:

Cutaway: In these heavy-duty shuttle vehicles, a van cab and chassis remain, while the remainder of the body is modified for transit use, with capacity for upwards of 20 passengers. Often used for ADA paratransit and human services transportation, these vans can be re-branded to use as microtransit with little modification.
Passenger vans: These tend to be the larger-height vans popularized in Europe, with capacities of 10-15 passengers. The vans can be modified to include lifts to include all passengers.
Minivan: These vehicles typically hold 4-6 passengers, or if the vehicles are wheelchair-accessible, a single wheelchair-using passenger plus one non-wheelchair-using passenger.
Microtransit Vehicle Examples:
The Canadian organizations MaRS Discovery District, The Atmospheric Fund, and COOP Carbone released a report entitled Microtransit: An Assessment of Potential to Drive Greenhouse Gas Reductions that looks at the potential of using microtransit as a means of reducing single occupancy vehicle use, and by extension greenhouse gas (GHG) emissions, in the greater Toronto and Montreal metropolitan areas. The report authors along the way explain a wide range of topics, including: delivery models and consumer typologies. Ultimately, after calculating the GHG savings (the methodology might be helpful for future studies), the authors conclude that microtransit might hold significant potential to reduce transportation related GHG emissions.
The International Transport Forum (ITF) studied the potential impacts of shared mobility, including microtransit, in combination with existing public transit, to lower transportation related CO2 emissions.  Using real trip data, the ITF model looked at a what if scenario and asked the question what would happen if all of the private car trips were replaced with shared modes.  The model found that only 10 percent or less of the number of vehicles were needed to get people where they needed to go when they needed to get there.  Subsequently, the model also found under this what if scenario that CO2 emissions dropped by 1/3 and the benefits also extended to freeing up on-street parking.  Replacing all of the private vehicle trips might not be realistic, so to further explore the impact of shared mobility, the model also simulated replacing 20 percent of vehicle trips with shared modes.  Similarly, the model found that CO2 emissions could be reduced by as much as 20 percent if such as scenario were to be reached.  To read more about the study download the Shared Mobility Simulations for Helsinki report.
The Los Angeles County Metropolitan Transportation Authority (LA Metro) has partnered with the microtransit provider Via to offer affordable rides to and from several local and regional transit stations. LA Metro's criteria for determining its service areas focused on the neighborhoods surrounding transit stations: presence of low-income, racial minority, and ethnic minority populations; gaps in fixed-route service (no service, low frequency, or inadequate span); physical barriers impeding pedestrian or transit access; and trip generators in the area.
Because it often either resembles existing demand responsive transit modes or supplements fixed-route service, public microtransit can be operated in a wide variety of partnership configurations. Different types of partnerships reflect the capital and operational needs of the partnering agency. A microtransit service provider can partner to provide any or all of the technology, vehicles, drivers, maintenance, and other operations, according to the specific needs of the public agency. (The private partner's provision of technology is generally common to all these arrangements.)
Private sector technology; public agency vehicles and drivers. An agency deploys the private partner's dispatch, routing, and/or user app technology on their agency-owned and operated vehicles. The AC Transit program uses this model.
Private sector technology; public agency vehicles; non-profit agency drivers. A variation on the most basic arrangement above, more common to human services transportation.
Private sector technology and drivers; public agency vehicles. The Seattle Via-to-Transit project is an example.
Turnkey solution. A single private operator (or consortium) provides the entire microtransit transportation service for an agency, including technology, vehicles, and drivers. This type of partnership is common for agencies or jurisdictions that do not already have their own vehicles or structure appropriate to provide microtransit.  The Arlington, TX microtransit service is an example of this type of public-private partnership.
At this point in its evolution, fully private microtransit service is generally provided as a large-vehicle, pooled version of ridesourcing services, without an explicit connection to public transit services. Public microtransit services are distinguished by their partnerships between local governments or transit agencies and a private microtransit provider.
Complementary or alternative on-demand paratransit / universal design system servicing people with disabilities and other passengers
The Wheels2U project mentioned above uses a transit agency's ADA complementary paratransit vehicles in the hours when they are not operating. The Pickup by CapMetro pilot took this concept an additional step by using retired paratransit vehicles, rebranded with agency livery and branding for the pilot. The agency operates the fully accessible vehicles, on-demand. The service reported high use of its wheelchair lift.
The Shared-Use Mobility Center webinar, Microtransit Public-Private Partnerships, provides an overview of how the mode operates in P3s, generally, and features public partners from four cases, including:
King County Metro Transit/Sound Transit:  Seattle-area pilot project that provides first-and last-mile connections to the fixed route light rail and bus network. The Seattle pilot is designed to test the viability of partnerships between public agencies and private mobility operators to increase access to transit.
City of Newton, MA: A microtransit partnership that provides service to seniors.
City of Grand Rapids, MI: A microtransit pilot is providing on-demand paratransit service to people with disabilities.
City of Arlington, TX: Full public transportation replacement with shared on-demand transit.
Other microtransit examples include:
Lone Tree Link is a microtransit service that evolved from a traditional circulator shuttle that extended service from the Denver RTD light rail transit to large employers. In a later iteration, the city partnered with Uber to pilot an on-demand service that used both ridesourcing vehicles and one of the circulator service vans to provide on-demand service within the suburb. In 2019, the light rail service reached two stations and a terminal in Lone Tree, so the need for microtransit shifted. The re-launched program serves any origin-destination pair within the city limits.
The Toronto exurb of Innisfil, Ontario, considered traditional fixed-route bus service to address demand for public transit. They considered and calculated costs for both one-bus and two-bus acquisitions and operations for a smaller and larger service area, respectively. Desiring a larger service area, the department of transportation staff recommended issuing a Request for Expression of Interest, followed by an RFP for demand-responsive transit. They ultimately formed a partnership with Uber to pilot the UberPool ridesharing platform to fulfill, along with taxicab service, transit functions in the city. According to a CityLab article, the service was popular, but its growth meant increasing costs, prompting the city to raise fares, reduce discounts, and limit the number of rides a rider can take every month. While the service remains popular, a mode like rail might enjoy economies of scale with rider adoption, but smaller vehicles require more supply to meet demand.
Norwalk (Connecticut) Transit District developed Wheels2U as a pilot program to serve transportation needs to an emerging retail area and to provide service to existing nightlife destinations in their entertainment district. Previous fixed-route bus operations to the district after daytime working hours had shown low service efficiencies, with buses running at low ridership levels and numerous bus stops being unused. The Wheels2U microtransit service uses branded cutaway vans during evenings, beyond their service hours as ADA complementary paratransit vehicles. The pilot became a program, and continues to grow. While the agency has not yet charged a fare, it plans to as it expands in popularity.
Like Norwalk, Gwinnett County, Georgia has extended its free pilot. It too uses wheelchair-accessible cutaway vans, and has no fare at the moment. As discussed in the linked Eno Center for Transportation webinar, the transit agency hopes that its paratransit users might also use the service.
Project Goals
The appropriate mobility solution and service delivery model for your community should be driven by the goals and budget of the project. The goals of a project can be high level (e.g.; increased mobility options) or more granular (e.g.; improved level of service per user cost). Other goals could include reduced car dependency, increased mobility for older adults and people with disabilities, or increased public transit ridership. These project goals are examples from pilot projects from the MOD Sandbox program, but agencies should develop their own based on the nature of the project and the community being served. Once the project goals are established, it is important to develop a set of performance benchmarks and identify the required data needed to measure whether or not a stated goal has been met. Community input is important throughout this process to identify the needs of a pilot project's intended users.
Performance Metrics
Having established a set of project goals the next step is to develop a set of performance metrics and the data needed to measure them to assess a pilot project's effectiveness. Examples include:
Travel times and wait times
Count of unlinked trips at selected stations
Count of unique public transit users
Number of trips provided with WAVs
Rides per vehicle service hour
For additional performance metrics, you can consult the MOD Sandbox Demonstration Independent Evaluation plans, which contain detailed goals and performance metrics for a variety of projects, including microtransit and first/last-mile projects in Seattle, Los Angeles, Pima County AZ, and Pierce County WA. Visit the National Transportation Library to access all of the independent evaluation reports for the FTA MOD Sandbox projects.
Another example for establishing Performance Metrics is presented in the Transit Cooperative Research Program (TCRP) Synthesis 141, Microtransit or General Public Demand–Response Transit Services: State of the Practice, which is a meta-study of microtransit and a collection of case studies. As mentioned in the introduction of this Learning Module, when in a partnership, microtransit tends to fill needs where fixed-route service has trouble working, so its metrics will be different. As the synthesis notes:
The cost per passenger is considerably higher than that of fixed route service due to the relatively small number of passengers carried, but the cost per hour of service provided is usually considerably lower due to the use of contractors and smaller vehicles.
The cost per passenger of general-public DRT is considerably lower than the cost per passenger for traditional paratransit services that have inherent inefficiencies; hence, the relatively small investment in recent technology to support more dynamic [and accessible] DRT is worth the cost.
The price of technology is decreasing rapidly. LYNX reported that their procurement of the technology necessary to provide dynamic demand–response service initially took 3 years and more than $800,000 when they started the process in 2014. SacRT reported they paid only $25,000 to TransLoc to utilize the already-developed software they needed to activate their microtransit service in 2018.
The table below gives a good idea of the current state of P3 microtransit ridership, service productivity, and costs, showing the critical passengers per vehicle service hour measure.  The examples offer a discrete set of performance metrics that, when applicable, can then be used to identify how well a project meets its stated goals.  A performance metric might meet one goal, for example lowering the unit cost per trip, but other project goals also need to be considered, such as providing equitable service across a geographic area.
Respondents reported an almost remarkable consistency in average ridership ranging from 2.4 to 4.7 passengers per hour. As is the case with fixed route services, DRT that operates in areas with greater population or employment density tends to perform better than DRT operating in areas of lower density.
Note. The numbers are self-reported figures from agencies that responded.
Contract or in-house
Cost/Vehicle Service Hour
Passengers/Vehicle Service Hour
Cost per Passenger Trip
AC Transit
In house
$214.00 (fully allocated
3
$71.00
Cherriots
In house
$65.00
3.5
$18.57
DART (Dallas)
Contracted. Dart provides vehicles and facilities but not fuel.
$46.00
2.5 for original DRT service, 3.5 for new GoLink service.
$18.40
$13.14
Denver RTD
Contracted
$83.00
3.8
$21.84
HART
Contracted
HART pays contractor by trip and not by hour.
3.5
$10.00
Houston METRO
In house
$75.00
2.4
$31.25
Kitsap Transit
In house
$130.72
3.66
$35.68
LYNX
Contracted
$41.17
3.3
$12.60
MST
Contracted
$54.18
4.03
$13.44
NVTA
Contracted
$44.48
2.6
$17.00
NCTD
Contracted
$97.00
2.7
$36.00
TDU
Contracted and in house
$34.69
4.7
$7.34
Source: Transit Cooperative Research Program (TCRP) Synthesis 141, Microtransit or General Public Demand–Response Transit Services: State of the Practice
Microtransit has grown in popularity over the last several years, fueled in part by technological advancements in vehicle routing and mobile apps. As a consequence, transit agencies and cities are looking toward partnerships with private microtransit operators to provide enhanced mobility solutions in their community. General public microtransit is best deployed where fixed-route transit may not be productive due to low density, poor street connectivity, or other factors. As these microtransit services mature, agencies must understand how these services are helping them achieve their goals, with consideration for factors such as rider satisfaction, productivity, and cost, to determine whether and how microtransit should play a role in their robust public transit networks.